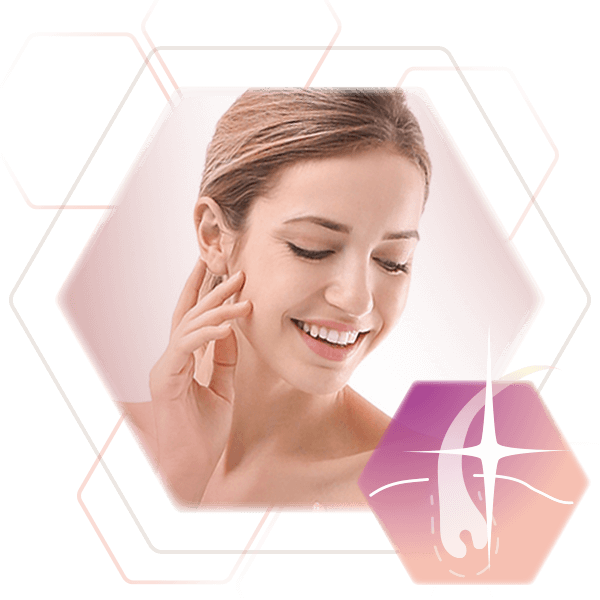 Hair removal for women
FACE & LADIES BEARD
Get rid of unwanted facial hair, such as peach fuzz, permanently* with state-of-the-art light-based hair removal methods in Stuttgart.
Get rid of facial hair
Annoying hair on the upper lip and chin
Many women are annoyed by unwanted hair on their face. Although facial hair is completely normal for women as well, some areas are often stripped of the hair.
The upper lip and chin are among these areas, because here every single hair disturbs the appearance. Especially when facial hair is growing excessively many women feel restricted in their everyday life, which is why not only their professional life but also their free time is severely affected.
Facial hair removal for women
Getting rid of facial hair, commonly referred to as peach fuzz, can become a regular challenge for women. To eliminate unwanted facial hair, many women resort to temporary methods like shaving. While this provides a quick solution, it offers only temporary smoothness and requires regular repetition to achieve the desired result. As a woman, you probably don't want to spend every morning in front of the mirror shaving your face.
A daily problem
Due to the current situation, our mouth-nose region is often covered and prevents disturbing hair from being visible. Nevertheless, this is not a permanent* solution. Therefore, many women remove hair in this area by means of shaving, waxing or plucking. Although these methods can achieve longer effects, the hair does not disappear permanently. Additionally, you have many unpleasant disadvantages such as high expenditure of time and money. The daily fight against unwanted facial hair becomes a test of patience.
Hair removal by wax or epilator irritates the skin and causes redness. It is also common that ingrown hair occurs, causing inflammation. Shaving causes side effects as well, as shaving pimples and shaving shadows often develop.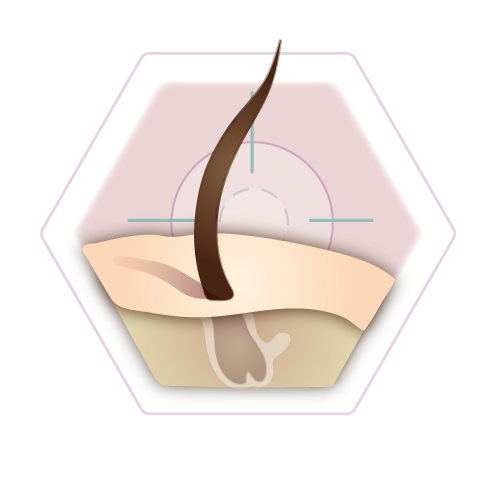 What can you do against facial hair?
Get rid of facial hair – forever*
The attempt to get rid of facial hair often causes other problems, which also need to be solved in order to maintain a beautiful appearance and lead a carefree life. Unfortunately, this creates a vicious circle of fighting the hair and the consequences of hair removal.
It would make much more sense to literally get to the root of the problem and thus spare your nerves. Permanent hair removal* not only saves you a lot of time, but is efficient, skin-friendly and pain-free. The revolutionary XENOgel technology
The technology of hair removal using lasers and light has a long tradition and is constantly being refined and developed. Thanks to the long-lasting results of this technology, customer satisfaction is particularly high. To ensure that you can also benefit from this advanced technique, we offer it in Stuttgart for the removal of unwanted facial hair.
The XENOgel Technology is the newest and most revolutionary technique for light-based hair removal. This method is not only highly effective but also gentle on the skin and painless, making it particularly suitable for the permanent removal of facial hair.
How does this technique work for the removal of facial hair?
Older methods of permanent hair removal rely mostly on the body's own pigment melanin. However, this pigment is not only present in the hair but also in the skin. As a result, each light pulse affects not only the hair but also the skin. This is where the XENOgel Technology differs because this technique only targets the hair through melanin by 50%.
The remaining energy acts directly on the stem cells of the hair follicle, cutting off their supply. This prevents the formation of new hair. A specially applied crystal gel optimizes and enhances the desired effect during the treatment. Additionally, the gel provides a pleasant cooling effect.
Thus, the treatment with XENOgel Technology is painless, skin-friendly, efficient, and particularly sustainable.