XENOgel® Technology
Revolutionary Technology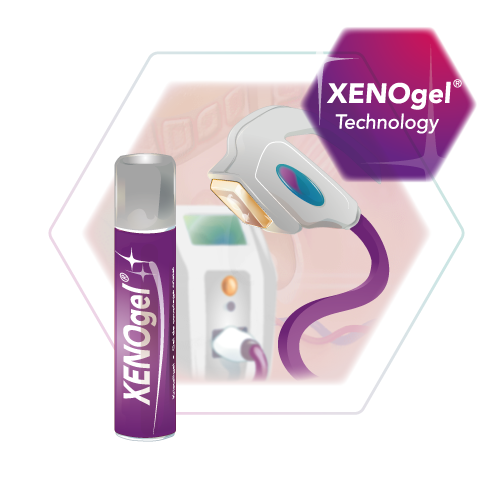 The modern hair removal
The XENOgel® Technology is based on over 15 years of experience in permanent hair removal*. Through precise research and advanced technology, XENOgel® Technology revolutionizes permanent hair removal*.
No shaving, waxing or epilating and still silky smooth skin – this result can be achieved by numerous methods.
Hair removal with light or laser is the most modern way to permanently* remove hair. There are a variety of different techniques available. The XENOgel® method uses the latest generation of photoepilation systems and combines them with an optimized crystal gel. This improves the exposure to light during the treatment and results in the greatest possible effectiveness.
LATEST Technology for perfect results | XENOgel® Technology
State-of-the-art technology for optimal results | XENOgel®
The difference to IPL
The IPL method is based on the effect of light exclusively via melanin on the hair roots. However, the pigment melanin is also found in the skin, which is why it is not possible to rule out any adverse effects due to the heat generated by the skin. In addition, the IPL method reaches its limits with light-colored hair. If a treatment is nevertheless carried out, the body could react with a defensive reaction and form a white hair. This does not contain melanin and therefore cannot be removed with any method of permanent hair removal* using light.
XENOgel® Technology relies only 50 percent on light exposure via melanin. The remaining light energy directly influences the stem cells, as these are responsible for supplying the hair root with nutrients. The heat generated during a treatment denatures the protein in the hair root and ensures that the supply of nutrients is permanently prevented. As a result, no more hair grows back and the permanent* effect of hair removal sets in.